2 Best Sites for Paid Surveys
Taking paid surveys online is an easy task that you can do to earn money in your spare time. Survey companies work with businesses that need insight on new ideas before they hit the market. You'll earn cash for answering questions that will help brands improve their products.
Filling out surveys for cash can be worth your time if you sign up for the right survey sites and implement a few helpful tips.
All you need is an internet connection and a computer or mobile device to get started.
The Best Sites to Take Paid Surveys Online
You don't need to sift through a myriad of options. Instead, sign up with only the best-paying survey sites.
1. Swagbucks
Swagbucks is owned and operated by Prodege, LLC, the same company that runs MyPoints. It has an A+ rating with the Better Business Bureau (BBB) and has been in business for almost 15 years.
Every completed survey pays between 1 and 350 Swagbucks (also called SBs), depending on the length and topic popularity. For every 100 SBs, you'll earn an additional $1 that can be redeemed for gift cards to places like Amazon, or for PayPal cash. New Swagbucks members will receive a $10 signup bonus after spending at least $25 at one of the site's featured retailers like Amazon, Best Buy, or Walmart.
Paid online surveys are not the only way to make money with Swagbucks. The company awards its members SBs to shop online, search the web, and watch videos. You can start redeeming your earnings as soon as you reach 300 SBs.
The more SBs that you accumulate, the higher the value of the gift card you can redeem. You can unlock more store options and find gift cards to places like Starbucks, Walmart, and iTunes.
Where it's available: Most of the Americas, Asia and Europe, and some areas in Africa.
Age requirements: 13+ years old
Average earnings: $0.40 – $2 per survey
Payment method: PayPal cash or gift cards
Minimum to cash out: $3 in gift cards or $25 in PayPal cash
---
2. PrizeRebel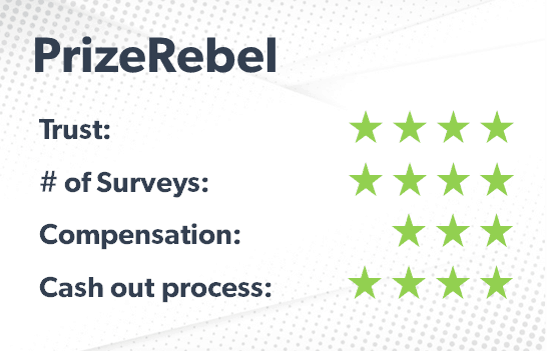 Since its debut in 2007, PrizeRebel has paid more than $19 million to its 9 million members.
PrizeRebel's signup process is quick to complete. You just need to provide your name and email address. After confirming your email address, you can start taking paid online surveys. The first required survey asks for your demographic information and is worth 10 points.
You can cash out when you've earned at least 500 points, worth $5. Most surveys pay between 40 and 60 points and can take up to 15 minutes to complete.
PrizeRebel has a unique program that awards members based on the level of earnings. If you earn 4,500 points, you'll reach Gold level status and receive a 1% bonus to your earnings and a 1% discount on your prize. Platinum level (10,000 points) gets you a 2% bonus and a 2% discount, and Diamond level (16,000 points) gets you a 3% bonus and a 3% discount.
Where it's available: United States, United Kingdom, Canada, or Australia
Age requirements: 16 – 17 years old with parental permission, or 18+ years old
Average earnings: $0.40 – $0.60 per survey
Payment method: PayPal cash, Dwolla cash, or gift cards
Minimum to cash out: $5
When to Avoid a Survey Site
You can't trust every site that claims to pay you to take surveys. Always avoid survey sites if they:
Ask for payment. A legitimate survey site will never ask you to pay to join.
Ask for private information upfront. You should not be asked to provide your social security number unless you've earned at least $600.
Have no history or ratings. Well-established companies are more trustworthy. You can read what real users have to say about them and verify their history of payments and available opportunities.
Pay too little. Legitimate companies will have some higher-paying opportunities worth completing.
Have a glitchy or outdated site. Companies that don't take care of their websites may not take care of their members.
Make it hard to qualify for surveys. Don't waste time on a company if it consistently disqualifies you for surveys.
Tips to Earn the Most with Paid Surveys
There are a number of things you can do to maximize your earnings when taking surveys for money.
Choose several sites
You don't have to sign up with hundreds of survey sites to earn some cash. Focus on the best options like Swagbucks and PrizeRebel.
Fill out your profile completely
Completing your personal profile on each survey site allows the company to match you with relevant offers. Most companies require your name, relationship status, occupation, and other demographic information.
Update your personal profile if you have a life change. Things like a new baby, new pet, or change in smoking habits could change your status for upcoming surveys.
Watch the time
Keep track of the time spent completing surveys. You're not likely to earn a high hourly rate completing easy surveys, and it can be a mind-numbing task.
If possible, do surveys when you have small windows of time, like when you're standing in line to fill a prescription or waiting for a meeting to start. Complete a few here and there instead of doing the surveys for hours on end.
Answer consistently
Don't fly through surveys, ignoring the questions to complete them faster. Read each question and respond honestly. Survey sites compare answers and can disqualify users who appear to be inconsistent in their responses.
Check for free offers
Some survey sites have a "free offers" section where you can earn points for signing up for free trials or newsletters.
Follow survey sites on social media
Watch for exclusive bonus opportunities throughout the day, and pay attention when better-paying opportunities pop up. Following these survey sites on social media may provide tips on earning more.
Take the highest paying surveys first
If you sign up with multiple websites, you might receive dozens of surveys to choose from. Take a few minutes to estimate your earnings per hour before you start a survey. You may be able to make more by picking the highest-paying opportunities first.
Refer friends to your favorite site
Send friends and family members your unique referral link so they can try surveys or offers for themselves. When they use your link, you'll earn additional cash or bonus points.
You can share your personal link on your social media sites or email it to people you know.